Sunway University Students Leads Malaysia's First Data Hackathon on Future Mobility
Partners with Carsome, the Data Science Students of Sunway University Give a Glimpse on the Future Mobility Solutions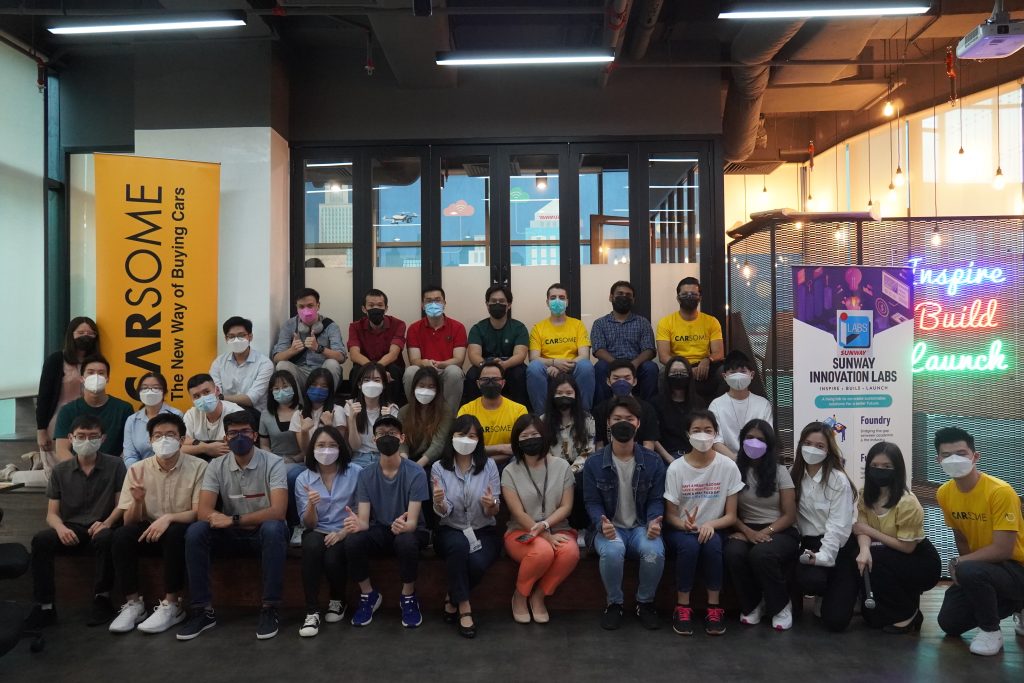 Days of non-stop brain netting, the Data Science students of Sunway University concluded Malaysia's first data hackathon on Future Mobility. This hackathon was co-organised by Sunway University through its Innovation arm – Sunway Innovation Labs (iLabs), Carsome and Sunway Analytics Society (a student club), following the launch of the Data Innovation Lab in December 2021. It involved 165 student participants from a diverse background.
Leading up to the Data Innovation Hackathon, three (3) data science workshops were conducted by the Senior Data Scientists of Carsome – Fares Hassan and Ammar Syatbi. The workshops included hands-on topics such as Introduction to python stack for data science, Applied ML fundamentals, and Using Streamlit for rapid prototyping & building data applications. These workshops provide students a unique opportunity to learn from the industry player, while getting exposure and opportunities for their career path. This also provides Carsome an arena to build future data science talents.
"The hackathon is one of the many initiatives organized by Sunway University to enable students to bridge the knowledge they acquire in the classroom with real-world case-studies and practices. In this context, the hackathon help nurtures the next-generation industry-ready data scientists to power Malaysia's socioeconomic development." said Prof Mahendhiran, Pro Vice-Chancellor (Research Engagement and Impact) of Sunway University
During the 4-Day Hackathon (15-18 April 2022), Students participants came together as teams, to create innovative predictive models that tackle the future mobility challenges in South East Asia. Some meeting for the first time, and despite the sleepless nights, the participants engaged with people of shared passions and mentors from Carsome to refine their ideas and practice pitching them.
On the final day of the hackathon, the teams presented their solutions to the panel judges, which comprises of Prof. Angela Lee Siew Hoong (Head of the Department of Computing and Information Systems at Sunway University), and Piyush Palkar (Chief Data Officer at Carsome Group). The winning team proposed a predictive pricing model for automobile demand across the South East Asia region, which will potentially impact the sustainable car production and consumption (recycling used cars). The winning team, consisting of Foo Khai Liang, (Year 2, Bachelor of Information Systems (Hons) (Data Analytics)), Chun Hanssen (Year 3, Bachelor of Information Systems (Hons) (Data Analytics)), Ng Thea Jong (Year 3, Bachelor of Information Systems (Hons) (Data Analytics)), Chin Siew Mei (Year 3, Bachelor of Science (Hons) in Actuarial Studies) walked away with RM 3,000 in cash. 
"The 4-day hackathon was challenging and tiring from sleepless night, but it was fun as my team and I, together with our mentors discuss on various idea and solutions when we hit roadblocks. The sense of accomplishment after completing the challenges is very satisfying and rightfully earned. I believe that all students who studied computing should participate on future hackathons as it allows us to test our skills and knowledge when it comes to solving real world problems. " said the winning team.
"We are very excited to partner with Sunway iLabs to organise the inaugural data hackathon, which ended on a high note. As a brand disrupting the used car industry with data and technology innovations, we are very inspired by the young pool of data talent who demonstrated grit and tenacity as they pitched their ingenious ideas to us. We look forward to working closely with Sunway iLabs and these talent to continue elevating the used car industry and ecosystem," said Piyush Palkar, Carsome Chief Data Officer.