Meet the 23 startups shortlisted to join the Sunway iLabs Super Accelerator 2021!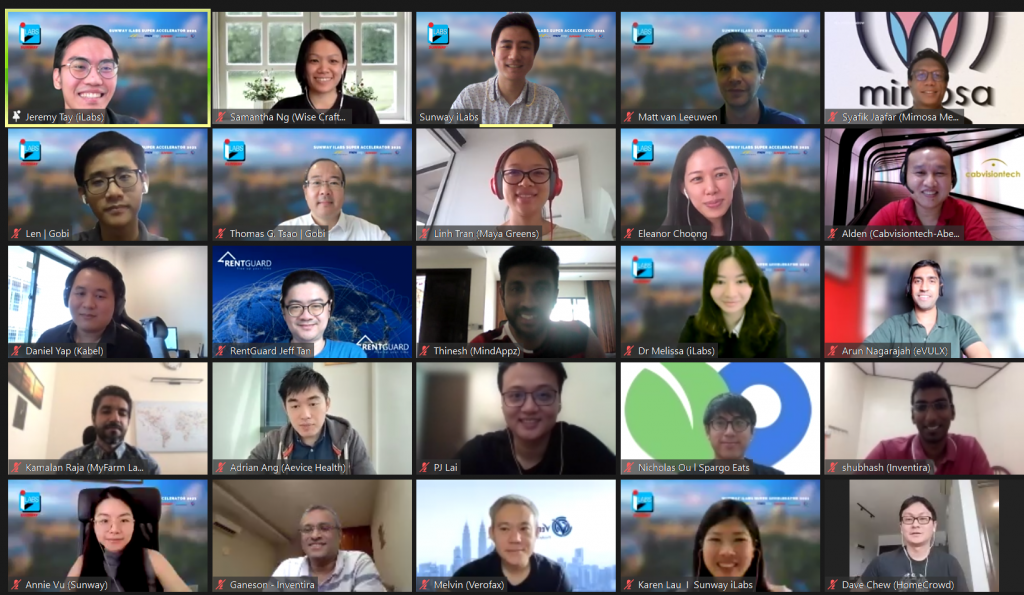 Here at Sunway iLabs, we are determined to generate real-world solutions for the betterment of the environment and mankind through these six verticals – Smart Cities, Digital Health, Fintech, Edutech, Agrifood Tech, and eCommerce.
We have shortlisted these 23 startups as we see the potential and synergy to work together with us in Sunway's diverse ecosystem. This year's batch is truly diverse, we have startups that have raised millions, some are at the MVP stage, some even coming from overseas! Here's a quick look at the top 23 startups:
Smart Cities
Abevosys provides an affordable premium SaaS-based solution to help hotels manage and monitor housekeeping and room inspections remotely as per the set Standard Operating Procedure.
2. Inventira
Inventira aims to reduce carbon footprint by vehicle upcycling with a twist and vehicle charging as a lifestyle.
RentGuard is a B2B SAAS platform that helps property operators to automate, centralize & analyze their rental business operations through their cloud solution.
Roomah connects renters to 3-to-5 star hotels through its' platform to book monthly stays. With Roomah, renters can now have the flexibility to rent a convenient and comfortable accommodation.
Smplrspace is an easy-to use web application that enables realtors to creative interactive 3D listings by sketching from 2D floor plans.
Space Plus is a tenant management platform that helps room renting operators or landlords to achieve zero unpaid rent, electricity bills, paperwork, and unrented room by automating and digitizing their business via their IoT Integrated Tenant Management Platform.
Trabble provides a guest engagement platform as a solution for the travel & hospitality industry. Their platform allows businesses to have personalised chat-based concierge service that answers travellers' questions in real-time, provide travel services and recommends activities or experiences during their trip.
Vouch is a digital concierge that works with hotels, attractions and shopping malls to elevate guest experience and boost productivity of their employees.
Digital Health
Aevice Health developed a simple yet powerful solution to empower the lives of patients with Chronic Respiratory Disease.
Mimosa Medica offers a complete suite of solution to manage chronic and acute wounds using app, web-based interface as well as network of wound experts
Vitamine makes healthcare easier for everyone by simplifying the process for consumers to achieve their necessary supplement intake.
Fintech
Capsphere is Malaysia's first P2P asset-based financing platform licensed by Securities Commission Malaysia. Capsphere sets itself apart from the crowd because they ensure that every loan is secured with an asset.
HomeCrowd is an impact enterprise that helps underserved millennial by using a holistic data-driven credit scoring that grants them access to a peer-to-peer (P2P) lending platform for mortgage.
MotionsCloud is an all-in-one mobile & AI solution that reduces insurance claims cost and claim cycle time from days to hours.
Singular Capital is a Quantitative Investment Management Company Trading the Global Financial Markets, dedicated to producing superior returns by replicating the world's best hedge funds.
Edutech
eVULX is a B2B learning provider that aim to foster new learning pathways by building gamified, digital simulation products.
KABEL bring together like-minded managers and talents to discover shared goals and build win-win relationships.
MindAppz is Malaysia's one stop online marketplace for learning and teaching solutions. MindAppz provides a Virtual Learning Environment (VLE) that will help students prepare for exams in the most structured way possible.
Agrifoodtech
1. Maya Greens
MayaGreen is a chemical free farming network using bioponics & permaponics technique for urban vegetable farming.
MyFarm Lab is a social enterprise that empowers socio-economically disadvantaged communities through sustainable agro-technology solutions with a current focus on microgreens
Loop Foods is a multi-brand internet restaurant company with a mission to become your neighbourhood's best loved delivery restaurant.
Wise Crafters provides data driven, customizable, and result proven healthy meals right to your doorstep to ensure you get #AtLeastOneCleanMealADay.
eCommerce
Verofax provides an Interoperable traceability platform, enabling retailers to screen suppliers on product sustainability credentials.
If you see any potential for collaboration between your own organization and these startups, do contact them via their website!
Out of the 23 startups, we'll be picking the top 5 to join our accelerator programme where the startups are given the opportunity to run a pilot project within the Sunway ecosystem. Which ones do you think have most potential to make it to the top 5?
Follow us on our social media to find out as soon as the results are announced!