Be part of the iLabs Family
Sunway iLabs is looking for passionate individuals to join our team.
An inspirational and fun working environment with an innovation-driven team, you will love it here.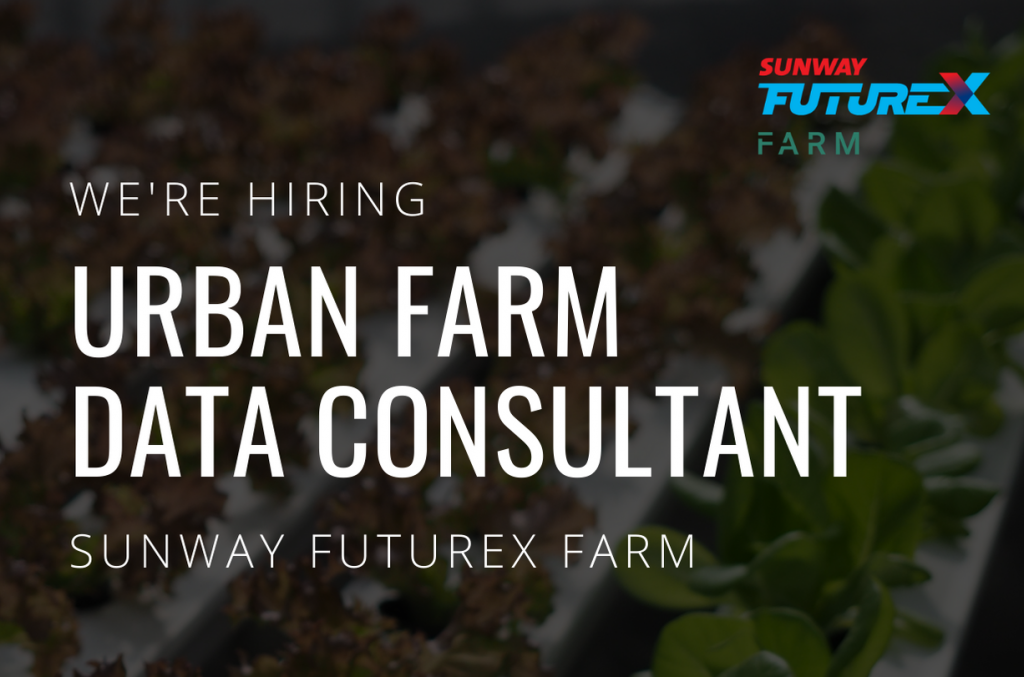 We are looking for an Urban Farm Data Consultant to provide specialist advise on the design and development of an integrated smart farming data management platform which connects all our farm to fork activities. With knowledge of the key drivers of successful urban farming businesses, technical capabilities and SAAS solutions, the consultant is able to deliver a complete farm data management framework and propose the best infrastructure required to integrate and sync data collected from our farm management system and customer eCommerce solution platforms.  
The consultant will provide both technical and commercial advice and information related to urban farming data management which will also involve breaking down complex assumptions and proposing the necessary data and recommendations. Data will be collected from the farms using a range of sensors and NDVI cameras which monitors key parameters and provide accurate yield projections for efficient farm management.   
The consultant will also consult on the build of a data and analytics infrastructure model which will be able to predict customer demand and buying behaviour, with the goal to minimise farm wastage and reduce operations cost. The system should intelligently interpret results of analysis, identifying trends and issues, providing recommendation for alternatives to support business objectives. The farm ROI data analysis build models should be designed for scale across multiple farm locations and systems. Each farm is unique, and because of that, have their own set of strengths and weaknesses which the system would need to be agile enough to support. 
You will be partnering with an experienced startup minded team and working directly with the Head of Sunway FutureX Farm and Sunway Group's Chief Innovation Officer. The best of both worlds – you will be part of a successful conglomerate , while enjoying the perks and adrenalin of being in a startup environment. In addition, you will gain invaluable experience to be in the midst of one of the most complete startup ecosystems in South East Asia. 
Key project tasks include: 
Design and develop farm data management platform with integration from FutureX Farm's management platform and eCommerce solutions

 

Design and develop data analysis service offerings to improve farm yield, including input/output, workflow, external analysis models, and milestone deliverables 

 

Create data and analytics 

infrastructure

 model to improve farm ROI by 

analy

sing

 real-time customer insights and feeding relevant information back to the farm

 

A

dvising on specific need for AI/ML in the tech infrastructure and cloud management system

 

A

dvise on compliance with current 

data 

regulations around urban farming and food production

 

Identify 

and guide 

a team of software engineers 

and data 

scientists 

who will be able to 

produce dashboards, reports, data analysis and data science models

.

 

Collaborate with internal and external partners to determine the appropriate analysis parameters, performance measures and decision tools to be applied.

 
We are looking for candidates who have: 
A proven track record for leading tech teams, managing complex analytical projects and delivery of data driven solutions.

 

Experience working with enterprise clients developing advanced data strategies, 

data analysis and 

complex measurement projects

 to improve business efficiency and profitability.

 

Experience working in agriculture field and knowledge on commercial farm operations and management in some capacity would be an added advantage 

 

Possess a

nalytical, 

problem-solving and 

consultative

 skills

, 

an individual which is 

outcomes driven, with an excellent ability to distill complex questions into meaningful data-driven recommendations

 

Passionate for

 entrepreneurship and innovations in

 

agrifoodtech

 

 
Sunway FutureX, an innovation hub measuring 50,000 sqft, will be launched as a venture building and innovation hub with a focus on agrifoodtech.  This is in line with Sunway City Kuala Lumpur's vision to be a living laboratory where ideas are generated to address the challenges facing humanity. At SunwayFutureX Farm, we operate 4 farms utilising different farming technologies – an indoor vertical farm, outdoor hydroponics greenhouse and two aquaponics farms. Our farms are built to address four key objectives – Nourish, Educate, Empower and Innovate. 
Immerse yourself in one of the most complete startup ecosystems in South East Asia!
Launched in 2017, Sunway Innovation Labs (Sunway iLabs) aims to foster entrepreneurship and stimulate market-driven innovations, to help entrepreneurs become more competitive in this rapidly changing environment. iLabs Ventures runs a 4 months' startup accelerator annually where we provide funding, mentorship, and access to market through our Sunway Group of companies. In addition, we collaborate with regional partners to run accelerators which attract and support foreign startups' expansion into Malaysia. All of our programmes focus and deliver value on 5 key verticals: Smart Cities, Edutech, Digital Health, Agrifoodtech and E-Commerce.
As a startup analyst, your role will include data acquisition and analysis of each startups' progress during the accelerator programme through a systematic approach, as well as conduct a deep dive into each of the five key verticals, carrying out market research studies and produce reports on the industry landscape, government policies, market needs and challenges. Working closely with a wide range of startup entrepreneurs, this role will give you a very comprehensive understanding and experience of the startup journey from idea, business model validation, market research, product testing, implementation and expansion. 
You will be attending meetings with mentors to support startups in data modeling, investment deck, financial model, etc. but will not be limited to just a desk role as you will also be responsible for event planning (online and offline) and execution. In addition, you will also be overseeing the pilot projects between portfolio companies and Sunway business units at Sunway City.
You will be part of an experienced startup team reporting to the Head of iLabs Ventures and the Group Chief Innovation Officer. The best of both worlds – you will be working as part of a successful conglomerate and alongside many corporate business units, while enjoying the perks and adrenalin of being in a startup environment. In addition, you will gain invaluable experience to be in the middle of one of the most complete startup ecosystems in South East Asia.
Responsibilities:
Deal sourcing and due diligence work on potential startup investments
Managing iLabs' startup portfolio, deal pipeline and all information relating to investment funnel from sourcing to exit
Monitor portfolio startup's progress by tracking activity and key growth metrics, publishing progress reports, recommending actions
Interpret, evaluate and present research data around iLabs' five key verticals.
Conduct and coordinate financial, product, market, operational and related research to support strategic and business planning within various iLabs departments.
Organise and execute both online and offline workshops, trainings and events for iLabs' accelerator and startup community programmes
Perform administrative duties which includes filing and organising legal documents, bookkeeping, performance reporting, etc
Qualifications:
At least two years' experience as an Analyst in an established organisation
Minimum University degree holder
Strong analytical, report writing and presentation skills
Functional experience with database and spreadsheet software, such as MySQL and Excel
Experience performing various forms of online research, knowledgeable or have the ability to quickly learn data mining tools and techniques
Detail-oriented and a strict attention and appreciation for deadlines
Self-motivated problem solver who can work with minimal supervision
Enjoys learning new things and thinks out of the box
Confident to build networks and meet new people, always ready to share your thoughts and inspire others
Passionate for innovation, technology, education, entrepreneurship and community building